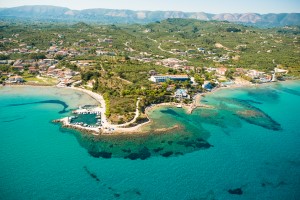 This is a guide solely dedicated to help all guests looking for information about accommodation, dining, transport, beaches, places to see, etc in the beautiful resort of Tsilivi as well as other attractive tourist resorts like the greater area of Planos, Bouka and Gaidaros beach, Tragaki, Kipseli, Belousi, Varres and Akrotiri.
Tsilivi is situated on the North East coast of the idyllic island of Zakynthos or Zante (as it is widely known), 9km from the airport and 5km from the capital of the island, Zante Town.
It has fast become one of the main tourist resorts on the island, bustling with many traditional family run tavernas, restaurants, bars and night clubs making it one of the island's 'hot spots' for entertaining nightlife. Originally a small resort, it has expanded in recent years and become THE place to stay for lively exciting holidays without moving away from its traditional Greek heritage.
---
The resort is set amongst olive groves and vineyards and its special features include a fantastic golden sandy beach of around 2km long that is well worthy of its Blue Flag, an award for clean beaches.
The sand shelves gently into the sea making it the ideal place for children to enjoy themselves in complete safety. The long promenade offers the chance for romantics walks through the local shops ending on the long sandy beach.
The friendly and fun atmosphere combined with the natural beauty of Greece and the guaranteed sunny weather makes this resort an ideal setting for people of all ages – a perfect holiday!
Enjoy searching through the categorized lists and find the best offers that will suit your needs and guarantee a perfect holiday in the amazing island of Zakynthos!
Whether you are looking for fun in the sun, Kodak moments and endless beaches or a little bit of culture, history and religious experiences then Zante, as it is widely known, will live up to your expectations and even overcome them!